More than ever, intangible assets represent a critical component of companies' overall worth. Trademarks, patents, know-how, data… your creativity deserves optimal protection in today's challenging world. Our method: a cross-disciplinary approach to all legal and intellectual property issues.
Our promise: the guarantee that your intangible assets are protected and valued over time.
François Pochart &
Grégoire Desrousseaux
01
Intellectual property
the 360° approach by August Debouzy
18 experts: attorneys-at-law, French patent attorneys, including 8 European patent attorneys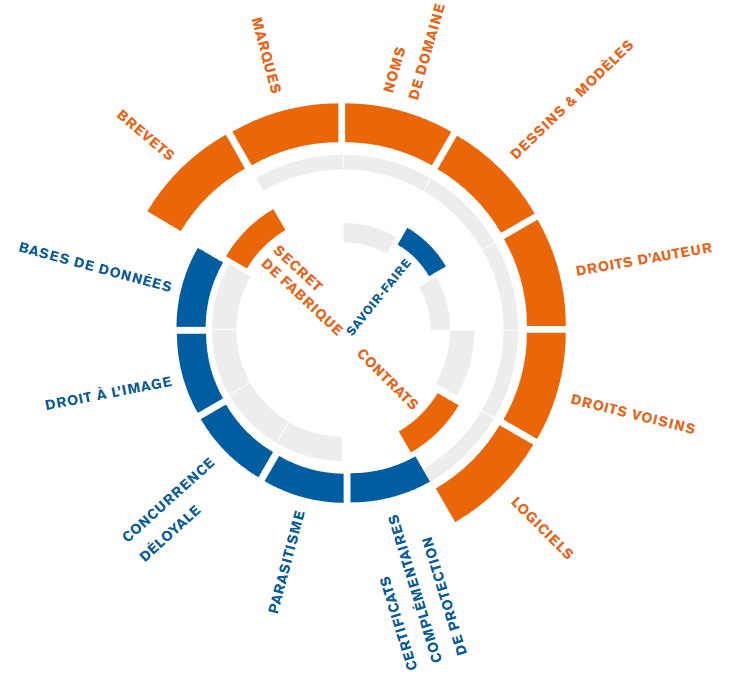 Supplementary
Protection
Certificates
02
Intellectual property
in 6 Steps
Protect
Advise on implementing strategies to protect your intangible assets (searches for prior art, registration, granting and opposition procedures). Our network of international law firms allows us to act and advise you on all the markets you are targeting. We provide your freedoms to operate in view of third parties' rights.
Defend
In-depth experience in disputes: infringement actions, invalidity actions, infringement seizures and preliminary measures, SYRELI (French alternative dispute method for domain names) and UDRP proceedings, actions following customs seizures or parallel imports, disputes over the employee inventions, litigation before the European Patent Office.
Negotiate
Our team drafts and negotiates all of your intellectual property contracts (licenses, R&D, sales contracts, broadcasting and production contracts, coexistence agreements or litigation termination, technology transfers, consortium agreements, trusts, pledge agreements, transfers of employees' designs and inventions, etc.).
Valueing
Working closely with our tax department, our team analyzes the value of intellectual property rights portfolios, particularly in connection with cross-border transactions and research tax credit.
Audit
In relation to your M&A transactions, our team works with our Corporate law team to check the extent and validity of the target's intellectual property rights (checking filings, registrations, renewals, reviewing license, transfer, confidentiality and co-development agreements, analysis of ongoing litigation, reviewing the scope and strength of IP rights, etc.). Our team is experienced in ascertaining the freedom to operate and in identifying potential risks related to running your business.
Educate
In line with our corporate-focused approach, we organize personalized training sessions at our clients' offices on a full range of intellectual property topics. 
Julia Cohen-Solal
I have a scientific background and earned an engineering degree in Chemistry from the Chimie ParisTech School. As soon as I graduated I leaned towards the career of a patent engineer and worked in a Patent Law firm. Combining the technical aspects of patents and the legal aspects in order to obtain and exploit a patent was something that quickly interested me. The profession enables me to understand new technologies in drafting patent applications and to advise clients on issues related to industrial property, such as the freedom to operate for a new project or the presence of a potential infringer in the market. I completed my scientific formation with qualifications allowing me to act before the European Patent Office and before the French Patent Office (INPI). Now, I work with August Debouzy as a French Patent Attorney and assist the firm's clients in their proceedings before Patent Offices and advise them on their industrial property issues.
Amélie Tripet
Copyright law has been my preferred area since I graduated because the margin left for interpretation in legal texts always raises new questions in a litigation strategy. Working alongside clients to secure the use of content and works of all kinds stimulates my creativity, particularly in setting up innovative business models. I value interactions with clients that are critical to understand the creative process, determine the originality of works and tailor the appropriate legal framework.
Learn more about our
In-Focus